Miami Sailing Charters
Book a Miami charter with our crew and you will have the time of your life on the water, beneath the warm sun with your closest friends. Our Miami charter service provides you with an opportunity for a unique Bachelorette party on the water, a model shoot or simply a fun day or evening out on the water with friends, a significant other, family or others. Whether you are looking for one last fun-filled outing with your friends before you or someone in your circle gets married or if you are simply on the prowl for a visually striking setting for a model shoot, our charter service has you covered. There is no better place for a
Bachelorette boat party than Miami.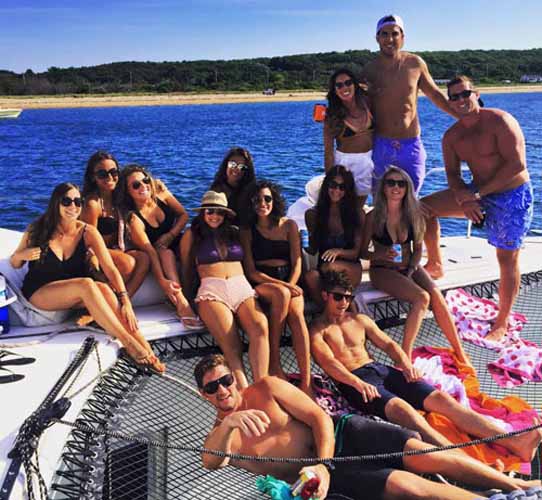 This part of the Sunshine State has crystal clear water, provides easy access to the beach and has absolutely unbeatable scenery. Take some pictures, down a few drinks, dance to the music and reminisce with your friends during a truly epic Bachelorette party on the Valkyrie. Our sailboat parties set sail in and throughout the entirety of the Coconut Grove Miami area, South Beach and other local destinations. If you would like to segue off the boat to nearby Nixon Beach or enjoy a Sand Bar Boat Party, we've got you covered. Simply tell us what you and your crew would like for your Bachelorette party and we will make it happen. In fact, we even provide sunset sailing directly out of Fort Lauderdale. Our services extend to overnight packages to Key Largo and beyond where you and your party can snorkel on glorious reefs, soak up the sun's rays and enjoy a group experience that provides memories certain to last a lifetime. Valkyrie even provides overnight sailboat charters directly to the Bahamas. Whether you would like roundtrip transportation to and from the Bahamas or one-way service in which our boat brings you to your destination and you fly back, we've got you covered. Our main goal is to ensure your Bachelorette party is everything you envisioned it to be.
Miami Sailing Charters for Model and Location Shoots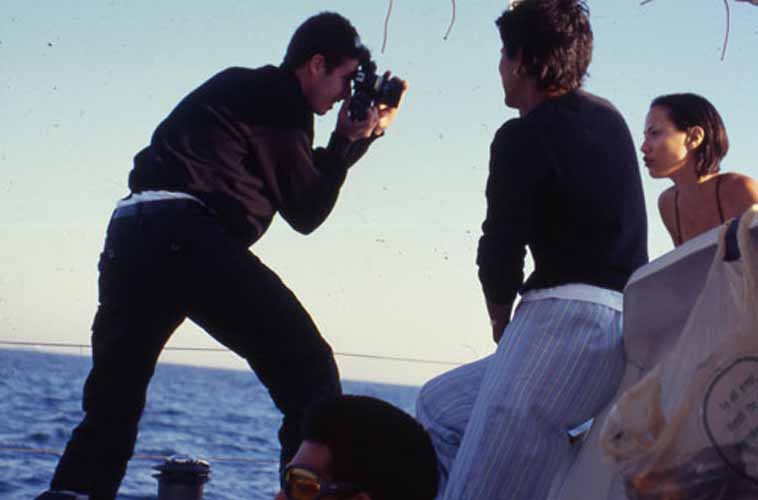 There is no better place to have a photo shoot than Miami's water.  Hop on our boat, hand off all the responsibility to us and let your guard down.  This is your opportunity to capture perfect snapshots amidst an aquatic locale with unparallel beauty.  Venture around our boat's spacious open deck and you will have ample room to get just the right angle for your photos.  There is more than enough room for you, your photographer, several other models, extras, friends and family for a rousing time on the water.  Spread out across the enormous deck, down a few drinks, enjoy some finger food and take as many pictures as you like while Captain Paul guides your party across the water.  The captain will steer you in the right direction, ensuring you have the best scenery for your pictures.  We know exactly where to take you for the best backdrops, lighting and angles. Let us guide you through the waters around Miami and you will have ample opportunity to take the perfect pictures.  In fact, you can even take some shots while jumping into the water.  Simply tell us where you would like us to stop the boat, jump off the deck for some action shots, swim your way through the water and have fun!  Once you are done with your photoshoot, you can enjoy a wide range of activities from sun bathing to dining, snorkeling, swimming, sightseeing and more.  Our crew is here to help you get the most out of your experience on the water both in terms of your photoshoot and having a blast with your group.  Whether you have one specific location in mind or would like to explore numerous sites throughout the greater Miami area for a far-reaching photoshoot, we've got you covered.  Our team is helpful to the point that we can even suggest locations with the most aesthetic appeal.  We have helped hundreds of models capture their beauty and the eye-pleasing Miami scenery on the water for absolutely gorgeous pictures. All in all, our boats can accommodate 20+ people throughout the spacious interior, foredeck and covered cockpit.  Whether you would like to bring along some friends, a significant other, family, makeup artists, wardrobe personnel, caterers and/or assistants, there is more than enough room for everyone on our boot.  Our service is flexible to the point that we can remain in your selected site on the water for as long as you like.  If you have a certain aesthetic in mind, let us know and we will steer you in the right direction for eye-pleasing scenery tailored to your unique desires for the ultimate photoshoot and afternoon on the water.  Take a swim after your shoot is complete, bask in the refreshing water and warm sun, return to the boat for some drinks and you will agree life is good.  You simply cannot find a better setting for your Miami photoshoot than our boat.