Hamptons Sailing Charters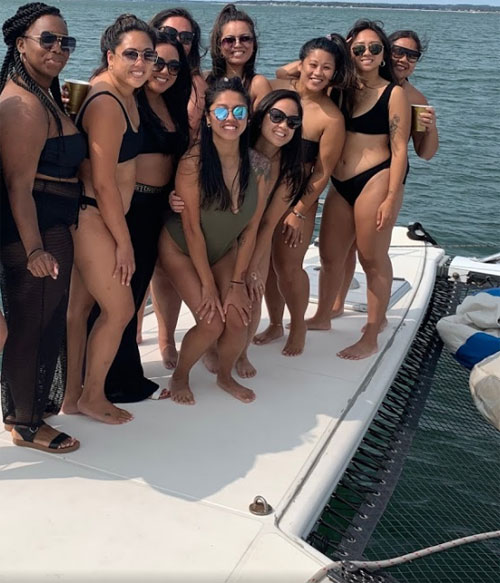 This is your opportunity to spend a day on the water with your significant other, family or friends.  Let Captain Paul lead the way and you will be liberated to square your focus on fun, enjoying quality time with your family and friends on the water.  Take snapshots of beautiful Sag Harbor, down a few drinks, let the relaxing breeze flow through your hair and you will feel truly free.  This 4-hour cruise give you the opportunity to escape life's stresses and responsibilities, let your guard down and enjoy the greater outdoors while our team does all the work on your behalf.  The peaceful bays will eliminate your worries and stress, helping you unwind from a stressful week of work.  In fact, our boat even stops to let you and your family and/or significant other take a dip in the water.  Alternate between swimming, eating, drinking and taking pictures throughout your Hamptons sailing charter and you will agree there is no better way to spend the day. If you are looking for a scenic and romantic setting to pop the question, you will find making a wedding proposal on our Hamptons sailing charter proves perfect in all regards.  Get down on one knee with the beauty of the Hamptons in the background, make your wedding proposal and the moment will prove unforgettable.  You simply cannot find a more romantic setting than a boat on the water for your wedding proposal.  If you have a specific location in mind for your proposal, let us know ahead of time and we will make sure to bring you and your sweetie to the exact backdrop you have in mind so you can make your proposal as you envisioned, take pictures with the beautiful scenery in the background and ultimately make the most of your wedding proposal.  Our goal is to ensure your Sag Harbor wedding proposal occurs exactly as you picture it in your mind's eye.  Let us lead the way and the only thing you will have to worry about is remaining cool, calm and collected as you make your wedding proposal.
Sag Harbor Party Sail Boat Rentals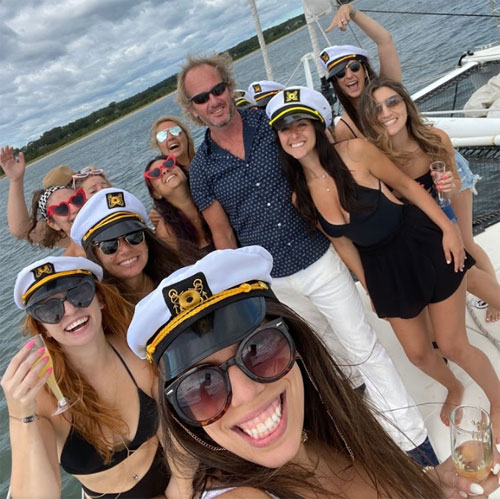 View the mansions, tranquil and secluded bays and unspoiled nature. Bring your favorite food and beverages, swimming attire, and be ready to chill aboard our sail boat, while we guide you to our favorite locations.
Bachelorette sailboat party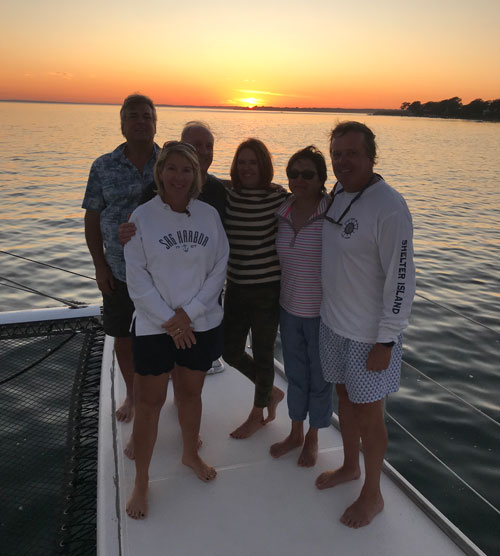 There is no better place to have a party than the water.  Seize the opportunity to party in the Hamptons with a sailboat rental, invite your family, friends and/or significant other and you will have an absolute blast.  Rent a boat for a Hamptons party and you will enjoy the beauty of sailing along the beautiful water without worrying about boat maintenance, insurance, repairs and other responsibilities that weigh down boat owners.  Our Hamptons party sailboat rentals eliminate all the worry so you are liberated to have fun on the water, enjoy an unparalleled sense of peace in nature and escape the city for a day.  Let your guard down, soak up the sun, enjoy your beverage of choice and enjoy life to the fullest on the water while our crew guides you through the most beautiful parts of the Hamptons. Countless locals in New York, New Jersey and surrounding areas have taken to the water with our Hamptons sailing charters for wedding proposals, bachelorette parties and other fun events.  Though most bachelorette parties in New York City take place indoors, we provide a unique alternative on the water that is sure to please everyone in your group.  Have your party in Sag Harbor, take in the beauty of the Hamptons from our boat and you will agree celebrating on the water is much better than on land.  An added bonus is the fact that our bachelorette parties in New York City are comparably affordable.  Check out our rates compared to those of other locales and you will find once you add up all the costs of a traditional venue for your bachelorette party, ours is quite affordable.  The icing on the cake is the fact that you get to experience the party on the water with all of your friends rather than trying to fit everyone inside a room with overpriced food and drinks.  Opt for a bachelorette party in New York city on the water and you will have the time of your life with your best friends by your side.  This is your opportunity to get away from the crowds, buck the trend of bachelorette parties in the Hamptons at conventional indoor sites and enjoy a day on the water that proves truly indelible in your mind's eye. 
Sag Harbor Sail Boat Charters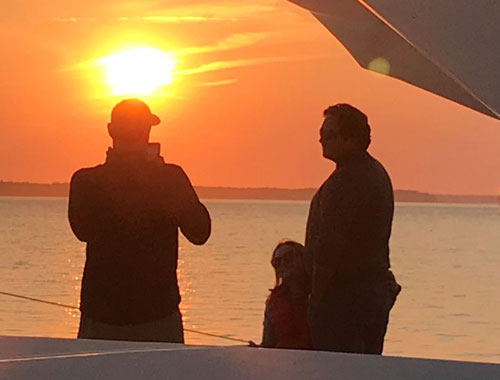 Ask anyone who has rented one of our boats in Sag Harbor about the experience and you will be inundated with praise for the experience.  Our boat rentals are the perfect way to venture on out of the hustle and bustle of the city, get on the water and enjoy life to the fullest.  Get out of your apartment, down a few drinks on the water and you will agree our Sag Harbor boat rentals are the perfect way to recharge your metaphorical batteries.    Our crew will handle all the responsibilities while you focus on enjoying the boat ride through Sag Harbor, around Shelter Island and other visually stunning sites.  Indulge yourself in a Sag Harbor boat rental and you will find the experience surpasses your expectations in every regard.  If you are like most people, you are looking for a way out of the urban rat race, even if it is only for a weekend.  Instead of renting a hotel room or hopping on a plane for a weekend getaway, stay local with a Sag Harbor boat rental.  Spend a day on the water with your chosen company, take in the beauty of the Hamptons from our boat and you will feel as free as a bird.  Jump off the boat for a swim, take some selfies with the majestic Hamptons scenery as a backdrop, enjoy some refreshing drinks with your lover or family and you won't want to leave!  The best part is you don't have to worry about luggage, driving, remaining sober or anything else that hinders the potential for fun on other trips.  We handle all the boating responsibilities so you are 100% focused on having the time of your life on the water. Wine and dine your sweetie during the boat ride, enjoy a meal with your family, take pictures of the lovely scenery, take a dip in the water and enjoy the peaceful tranquility of a worry-free day on the water.  We guarantee you will have a wide smile on your face from the moment you step foot on our boat all the way until you return to land.  Once you return home, you will be counting the days until your next Sag Harbor boat rental.