---
Our most popular Sag Harbor boat charter!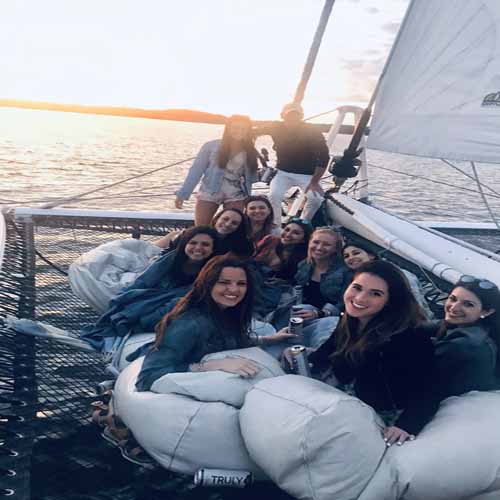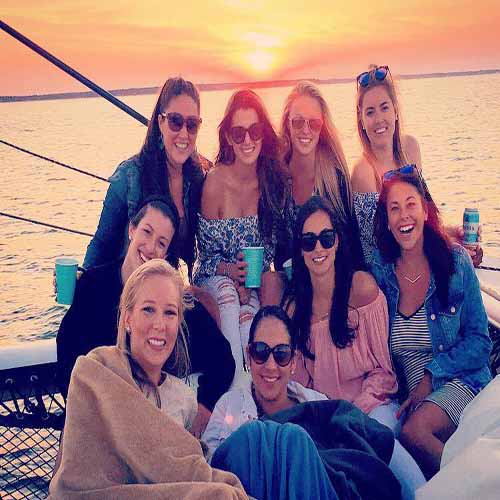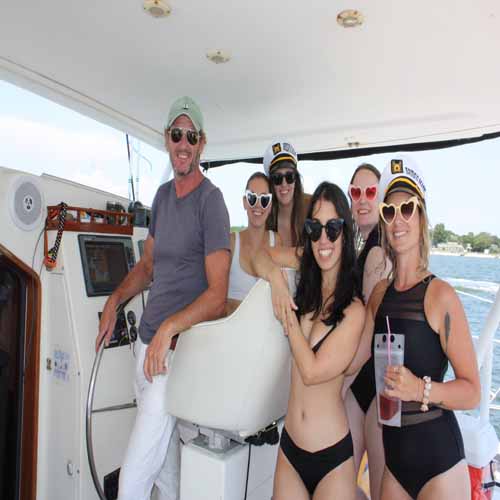 Valkyrie Sailing provides the picture perfect setting for your ideal Bach bash Yacht Charter Party in Sag Harbor!
Included in your private charter:
Half Day Boat Rental aboard a beautiful 62 foot, 4 bedroom 4 bathroom catamaran.
Full staffing of the vessel, including USCG Licensed Captain Paul and crew
Flexible pick-up/drop-off locations...Heading to dinner next in Montauk? We'd be happy to drop you off!
A variety of different routes to choose from depending on what things you'd like to do or sights you'd like to see!
Day excursions, Sag Harbor sunset cruises, mansion tours, wine vineyards, snorkeling...
Access to our pool noodles & floats, refrigerators & freezer (don't worry about lugging around a bulky cooler or accessories!).
Valkyrie Sailing provides a fully customizable
private yacht charter in Sag Harbor
catered entirely to your individual needs and desires. We are more than happy to work with you and we can't wait to help you celebrate such a special time in your life. If you are searching for the most spacious boat then a Sag Harbor Catamaran Rental with Valkyrie is The Highest rated.
Valkyrie is a wide, stable Catamaran Rental operating in Sag Harbor. Certified by The US Coast Guard for 12 passengers. There is ample space in 3 separate areas all of which could fit
49 passengers
: Front Deck with trampoline netting and comfy bean-bags, rear section under cover with ample seating, and Inside living room area.
New: Inquire about optional Aerial Drone Video and Photos
...Click for More Info on Ultimate Hamptons Bachelorette Weekend Plan
---
Sag Harbor Sail Boat Rentals
Sag Harbor Sailboat Rentals
Charter our 62' Catamaran to cruise around Sag harbor with your family and friends for The Ultimate Luzury Yacht Charter. A private boat rental is the perfect way to take in the beautiful surroundings, and with Valkyrie Sailing every little detail is taken care of. We cater our sailboat charters entirely to your needs. Feel free to bring your SUP paddle board, or yoga mat to further personalize your day. Our specialty is a private 4-hour cruise, where you can relax onboard our luxury yacht and take in the views with your group. Either choose to sit on board sipping your favorite beverages, stop for a quick dip in the water, or a fantastic
Sag Harbor Booze Cruise
. Valkyrie Sailing Charters offer an affordable and fun way to spend a day on the water, amidst the world famous, picturesque scenery of Eastern Long Island.
...More info Hamptons Sailboat Charters
---
Model Location Shoots
Valkyrie is the perfect platform for film, photo, and music video location shoots. At 62' long by 30' wide, with no heal, our vessel remains very flat and stable - perfect for shooting on the water. Our ample wide, accessible and flat deck space makes it easy to accommodate equipment and crew. In addition to our deck with ideal scenic background, inside you'll find a well kept and pristinely clean luxury nautical interior. Valkyrie Sailing Catamaran is available to rent for location shoots in Sag Harbor and beyond, with a variety of sailing routes throughout Eastern Long Island. Book for a full or half day, and our crew will assist with everything your crew might need. Picturesque, scenic, and private locations are available. We'll organize your choice of food and beverages, bring your equipment, feel free to tap into our sound system and prepare for a shoot that will stand the test of time.
---
Wedding Proposals
Propose at Sea
A private boat rental is the perfect, private location to propose to your sweetheart. Use your imagination and envision yourself bending down on one knee to propose to your significant other aboard Valkyrie with a beautifully romantic Sag Harbor setting in the background. The sun sets in the distance while the breeze moves through your soon-to-be fiancé's hair as you pull out the ring and ask for her (or his) hand in marriage. It simply does not get any more romantic than that. Our crew is here to provide you with whatever you need to make your wedding proposal on the water absolutely perfect. After all, the subtleties of this important moment matter a great deal. Tell us exactly what you envision for your wedding proposal and we will bring your vision to life, setting the stage for a truly unforgettable proposal on the water and a lifetime of love.
---
Family Friendly Fun & Adventures
Pirate Treasure Hunts, snorkeling, tubing, sailing camp
At Valkyrie Sailing, we pride ourselves on offering fully customizable charters, designed with something for everyone in mind. Can't get a sitter, or just want to bring your kids along? We've got you covered! Click here for more info …
...More Info Pirate Treasure Hunt by Boat
---
Valkyrie Sailing Charters 5 Star Reviews
Sag Harbor Sail Boat Rentals - Over
96
5 Star Reviews from Google and other verified Sources.
Click to View all Reviews
Captain Paul did a great job with communicating throughout the whole experience. The boat was a fun time, with music and fridge available to hold our snacks and drink. We stopped to swim at nice locations and it was an overall fun and memorable sail!
Cynthia Raimondi 5 Star Review with: Google
Absolutely wonderful! The boat looks even better than the photos. We had 8 girls but could have fit many more. Captain Paul and Nicole were awesome- so helpful, so friendly- the boat was super clean and relaxing, we even stopped and went swimming. Highly recommended!!!!!! We had a bachelorette trip but this would be lovely for any occasion
maggie politi 5 Star Review with: Google
We had an amazing day with Captain Paul on his gorgeous boat!! We were a group of 9 celebrating a bachelorette party and it was the perfect afternoon. We did a sunset sail from 4-8 pm and had the best time. Paul was so accommodating, helpful and easy to communicate with leading up to the day. Thank you so much Paul!!
Olivia Zysman 5 Star Review with: Google
My husband and I booked a sunset sail with Captain Paul for our anniversary, and we couldn't be happier with this experience. Captain Paul made us feel welcome, comfortable, and safe. The boat was clean and spacious, allowing guests to have a good amount of privacy. This this is a good value for a 3-hour sail with breathtaking views of the mansions in North Fork and Shelter Island. We capped off the day watching the most majestic sunset I've ever seen. Another sailing charter with Captain Paul would surely be part of the itinerary for our next Sag Harbor escape!
Cheska Marie 5 Star Review with: AirBnB
What an AWESOME experience! My wife and I took a sunset cruise aboard the Valkyrie with Captain Paul. We had originally scheduled for the night prior but some weather rolled through and Paul was very accommodating. We met where his instructions had laid out and boarded his dinghy right away. A quick 2 minute jaunt to the Valkyrie! We sailed for 3+ hours and it culminated in an unbelievable sunset. Prettier than our pictures showed! Captain Paul made sure we had everything we needed - including blankets when it got chilly - and was the perfect host. We hope to sail with him again and would suggest this experience to anyone. Thanks, Captain!
Whitney 5 Star Review with: AirBnB
I booked Valkyrie Sailing with Captain Paul for my sisters bachelorette party. By far the easiest process to book. Captain Paul was very responsive in all emails, and very helpful with recommendations for lunch suggestions in the area as well. The experience on the boat exceeding all expectations. It was clean, and very spacious. We sailed around Sag Harbor area and even anchored in a beautiful place to swim. Captain Paul and assistant Nicole helped to blow up floats we brought and supplied noodles too. All of the bachelorette party guests had a great time. Highly recommend Valkyrie Sailing with Captain Paul! In fact will be booking again for a family boating trip in the near future. Beautiful day for all!
Jennifer O'Neill 5 Star Review with: Google
July 2019
5 Star Review with: Google
We had a wonderful time on a private sunset sail over labor day weekend, he was fast to respond (even though we booked our experience less than 24 hours beforehand). We loved it so much, we brought a larger crew with us the very next day. Would absolutely go sailing on the Valkyrie again!
James
Had an amazing time with Captain Paul and Nicole aboard the Valkyrie. We had eight 30-something ladies onboard for a morning sail during my best friend's bachelorette weekend. The weather was great and all of the seating/tanning areas super comfortable and large enough for us all to sit together. We stopped a few times to swim and really appreciated the Paul/Nicole keeping an eye on us in the water and making sure we were safe. As we walked off the 4 hour cruise we were all talking about re-booking again for another weekend since it was so much fun and relaxing!
Marisa Rodriguez-McGill 5 Star Review with: Google
What an amazing experience!! From the beginning, Paul made our reservation easy and answered all of my questions quickly. I was delighted to find he had availability as he was the best price in the area. I had concerns due to COVID-19 and he assured me that the tour would still happen with no issues. Captain Paul went above and beyond for our group. When we found out about thunderstorms on the day of our sail, Paul sprung into action and worked with us to figure out a plan B. He was very flexible and was able to drop us off on the North Fork so we could continue on with our wine tour after the sail. The boat itself is SO spacious and truly an amazing experience! The speakers are great, and the front of the boat with the bean bags is so comfy. Paul didn't hesitate to help us blow up our floats and provide us with life jackets and pool noodles. I absolutely recommend for a bachelorette party, birthday party, or any type of group outing! Thanks Captain Paul!
Alex Siegal 5 Star Review with: Google